_________________________________________________________________________
_________________________________________________________________________
Hermes Hola Flamenca silk scarf.
Designed by Dimitri Rybaltchenko, 2005.
Have you ever been drawn to something?
The artist,
Henri Matisse
's

1935 print, Interior with Leaves depicts a philodendron that he grew in his studio. He felt the plant helped him better understand
line, form and weight
in compositions.
Henri Matisse 1935, Interior with Leaves
Matisse's observations and creations have inspired other artists.
Alexander Calder holding his mobile, 1954
Agnès Varda, photographer.
Alexander Calder worked with the great 20th Century dance innovator, Martha Graham to create choreography and costume
.
Alexander Calder Photographer: Unknown
________
There is a beauty, grace, and movement in this composition.
Hermes Hola Flamenca silk scarf.
Designed by Dimitri Rybaltchenko, 2005.
A
search for how this form and color could relate to garden design resulted in a historic garden, the Montisfont Abbey Garden.
The scarf had been folded in quarters and the creases left distinct lines. I recalled this photograph found at Great British Gardens. "Mottisfont Abbey Garden A former Augustinian priory beside the River Test with a park and garden. The park has ancient trees and an eighteenth century summer house. The Lime Walk was designed by Geoffrey Jellicoe in 1936."
Similar, lines, form and color.....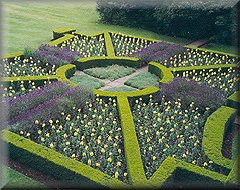 Also, a Photograph I had taken at the Dallas Arboretum of Papyrus Sedge with Sweet potato "Margarita" captured the colors and expressive lines, as did the fan palm.
I was also drawn to this .gif file of a moving Fibonacci Sequence. It is mesmerizing but I like the distribution of polka-dot/stars and there is a similarity to the Flamenco dancer in design and movement.
It would be fascinating to showcase a garden with a "Fibonacci/Fractal/Stars/ Dancers" theme.
It could include an evening presentation. Dresses with dancers wearing gowns covered with glow in the dark polka-dots. They could dance with long flag banners (gymnastic ribbons),

ala, Calder.
After watching a group use drones for night sky art , a lyric presentation with a Flamenco dancer preforming a cosmic dance could carry the theme into the sky.
http://nerdist.com/intels-drone-100-breaks-world-record-with-spectacular-light-show/